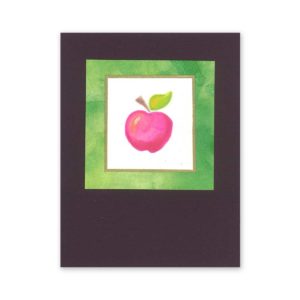 "An Apple a Day…" We all know this saying but where did it come from? A quick search found that it is based on a proverb of Welch origin. Digging a little further lead me to an article from JAMA (Journal of American Medical Association). I hate to admit, I didn't read the details…but I got the gist and I'm going to the fridge now to get an apple.
Use several colors of Marvy Brush Markers in graduating shades of Crimson Lake (red) to Pale Orange.
Apply the lightest color first, and blend with the darker colors.
Stamp onto white card stock.
Crop and layer onto matching colors of papers.