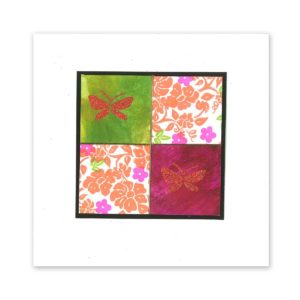 Use hand colored stamped background papers to create this eye-catching card. Assemble as you would a patchwork quilt.
Ink up Posh More Floral Flourishes with Marvy Markers in Orange and Light Green.
Stamp pink flower with JudiKins Bonsai Leaves Q-Bit.

Stamp and emboss JudiKins Buzzy Bugs Butterfly with Orange Twinkle Embossing Powder on Lime Green and Ruby colored paper.

Crop stamped papers into 1.5 inch squares and layer onto a 3.25 inch square piece of card stock.
Layer onto Square notecard.